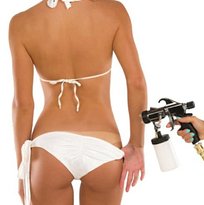 Fast drying tan is applied to your entire body, or specific areas, giving you a long lasting natural sun kissed glow.
£20.00 full body
£12.50 torso or legs
£15.00 per top up (weekly)
If you would like to have a cosmetic tanning party in your home, for five paying guests the hostess receives her spray tan for free!
Prepare
48 HOURS BEFORE YOUR TREATMENT
If this is your first spray tan, or you are prone to allergic reactions, we recommend having a patch test with your Solaris therapist.
Exfoliate paying special attention to dry areas like knees, elbows and feet.
Shave, wax or use depilatory cream to remove unwanted body hair.
Moisturiser with a low oil based moisturiser.
ON THE DAY OF YOUR TAN
Shower, but do not apply moisturiser or oils as these can act as a barrier to the tan. .
If you are not wearing nail polish, apply a clear base coat to protect our nails.
Bring black underwear or a bikini to tan in (or ask your therapist for a disposal g-string), as well as dark, loose fitting cotton clothes and flip flops to wear after the treatment. Tight clothing may cause the tan to rub off before it develops fully.
Bring an umbrella, just in case it rains.
Bare
YOUR THERAPIST WILL TALK YOU THROUGH YOUR TREATMENT, BUT HERE'S WHAT TO EXPECT ON THE DAY
Change into your underwear, bikini or a disposable g-string.
Secure hair away from our face with a disposable hat.
Remove jewellery and contact lenses.
remove jewellery and contact lenses.
Ensure that all deodorant, fragrance and make-up has been removed.
Your therapist will apply moisturiser to your hands, feet, knees and any other dry areas and will ask you to step onto sticky feet to protect your feet from excess tanning.
If you choose to have your face tanned, keep your eyes closed and hold your breath during this part of the treatment.
& Care
AFTER YOUR TAN
Ensure that you are dry before dressing.
FOR 6-8 HOURS AFTER YOUR TREATMENT
Your tan will develop during this time. The longer you leave it on, the better the results.
Avoid wearing tight or closed toe shoes.
​Avoid contact with water and activities that may cause sweating.
Avoid carrying your handbag or shopping bags on arms or shoulders as the tan could rub off in these areas.
If you plan to let your tan develop overnight, cover bedding with dark sheets.
The colour you see will continue to develop. This is the guide colour and will wash off t reveal your tan.
AFTER 6-8 HOURS
Have a brief, cool shower (not a bath) using a gentle shower gel where necessary. Gently smooth over our body with a soft sponge, shower poof or your hands. The water will run brown as the guide colour washes off. Do not scrub or exfoliate.
Pat skin dry with a towel.
Moisturise twice daily with a low oil based moisturiser.
For best results, avoid activities that cause excessive sweating and contact with chlorine throughout the tan's lifecycle.
Solaris tanning does not contain sun protection. Always apply a cream based, alcohol-free sunscreen when exposed to the sun.
NOTE: Some products, such as face masks, plasters, depilatory creams, anti-ageing and acne treatments, can affect the result of your treatment.
Choose from:

8%............ LIGHT........HEAVEN SUMMER GLOW........Our light tanning solution is perfect for anyone with a naturally pale complexion or for anyone who wants a natural glow rather than a full blown tan. This is the perfect, blush tan!

9% .............MEDIUM.....HEAVEN BRONZE TAN.............Our most popular shade! Our medium tanning solution is perfect for anyone wanting a natural looking healthy glow! Suits most Irish skins. Always looks like the PERFECT TAN!!!!

12%.............DARK.........HEAVEN ULTIMATE GOLD...............Our Dark tanning solution is ideal for anyone with a naturally dark complexion or anyone looking for a darker tan, this tan will make you look like you have just returned from 2 weeks in the med. Beautiful, Bronzed and Sexy!

14% ......... XXX-TRAAAA DARK......HEAVEN INTENSE GOLD......Take a trip to the darker side with our Solaris X Dark tanning solution ! If you require a deeper, rich beautiful bronze and spray tan, Our intense gold is for you! Perfect for a deep golden tan, although this tan will never look ott, even on medium skin types.