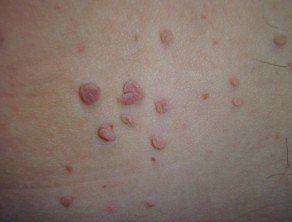 Thermavein has a very good success rate and usually succeeds in its purpose, as with all cosmetic procedures it cannot be guaranteed. Therefore, there is a possibility it may not work for you.
Skin tags are painless, noncancerous growths on the skin. They're connected to the skin by a small, thin stalk called a peduncle. Skin tags are common in both men and women, especially after age 50. They can appear anywhere on your body, though they're commonly found in places where your skin folds such as the:
armpits

groin

thighs

eyelids

neck

area under your breasts
Milia, skin tags and lesions - £35.00 1-5 minimum charge is £35.00 (1-2 mm in size)
Milia, skin tags and lesions - £60.00 6-10 (1-2 mm in size)
The lesion/lesions will either be taken off at the time of treatment or shrink and fall away over the follow week to 10 days. Further treatments may bencessary to obtain optiumum results. Review appointments are free of charge, however, should additional treatments be required they are chargable.