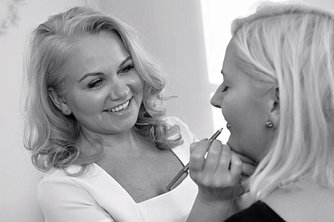 If you are interested in having semi-permanent make-up and would like to know more, please call Rosanna Zeitlin on 07756 008294, send an e:mail to info@rzaesthetics.co.uk or click on the button below to view her website.
RZ Permanent Make-Up is not affiliated to Infinite Beauty in any way.
What is semi-permanent make up?
Also known as micropigmentation, semi-permanent make up procedures have been successfully undertaken for many years by both celebritieis and busy women, creating make-up looks that last.
Pigment is implanted into the dermal layer of the skin using a state-of-the-art machine designed specifically for the cosmetic market. These digital systems are very different to conventional machines and inks used in conventional tattoo studios.
The treatment lasts around 1-2 years and are carried out in accordance with strict health and safety protocols using single use sterile needle cartridges. Your tecnicician will offer you the very best treatment, which will be both subtle and effective.
Semi-permanent make up and who benefits
For perfectly balanced and shaped eyebrows, for a lipstick that stays put and for non-smudge eyeliner, semi-permanent make up is every women's answer.
Coloured pigments ae implented into the skin to replicate make up, creating a beautiful and fresh look that last all day, every day, slowly fading with time.
Whether you are 18 or 88, we have a treatment that will not only simplify your make up routine, but will make you look and feel great.