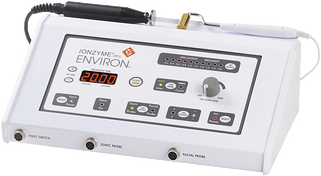 Infinity Beauty uses the very latest professional treatments taking inspiration from techniques in cosmetic medicine, combining the use of the Environ home care programme to maximise results. Environ facial treatments using the Ionzyme DF II Machine, which employes a combination of two highly sophisticated scientific methods of delivering active vitamins to the lower levels of the skin. Whether you are looking for a regular maintenance facial or a treatments to address a skin condition Infinity Beauty has something for everyone and for all skin types.
Inifinite Beauty also offers Jane Iredale Skin Care Makeup. Jane's range is not just a refinement of conventional make-up; it's a different technology. So effective, it is recommended by plastic surgeons, dermatologists and skin care professionals and worn by celebrities the world over. This leading range is free from parabens, fillers, synthetic dyes and artificial fragrances along with a huge range of colours from natural pigments. jane iredale® products are so gentle, they can be applied immediately after a treatment to camouflage redness or enhance the effects of a facial.
In connection with Environ, Infinite Beauty UK has introduced the Advanced Nutrition Programme - feeding trhe skin from within. When it comes to healthy skin, what you put inside the body can be as important as what you apply topically. That Advanced Nutrition Programme products can be combined to effectively target skin health.
As well as offering the Advance Nutrition Range for Skin and Wellbeing, Infinite Beauty also offers Juice Plus+ and Juice Plus+ Shape. Juice Plus+ is a convenient and affordable way to help bridge your nutritional deficiencies by adding the nutritional benefits of fruits, vegetables and berries to your daily diet and Juice Plus+ Shape nutrition concept, innovative and highly effective products have been developed which allow you to replace meals effectively and economically to aid weight loss.
Infinite Beauty UK has chosen its product lines with great care, offering a range of therapies covering from head to toe! From JESSICA Nails with relaxing pedicures and manicures (including Zenspa "pedicure for the spirit") to Environ facial treatment programmes for your face, tailored to suit you and your skin.