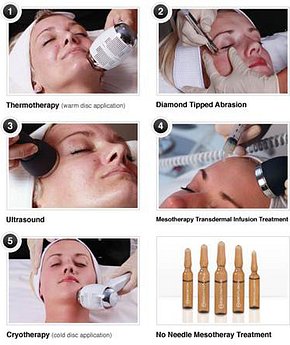 It is a wonderful treatment for under-eye bags and dark eye circles. The ultrasound accelerates blood and lymph circulation, the warming function helps to decompose fat and improve hypodermic absorption.
The Cryoderm System incorporates the most advanced up to date technology available in the beauty industry and is at the forefront of the aesthetics market with regards to the results achieved for the end user.
The Cryoderm System offers the professional clinic/aesthetician a 4 in 1 system designed for face and body treatments, with each element performing an individual treatment option or you can utilise all 4 elements in perfect synergy with each other, offering your clients unparalleled treatment procedures and results.
Click on the buttons below t find out more about the Meso range.
Treatment lasts approximately 50-60 minutes
What can be treated?

Acne Scars
Dehydrated Skin
Blackheads/Whiteheads
Enlarged Pores
Skin Discolouration
Sun Damaged skin
Stretch Marks
Scarring
Pigmentation (Skin Lightening)
Wrinkles & Fine Lines
Loose skin
Tired Grey Looking Skin
Oily Skin
Skin Texture
The treatment has also been featured on the TV programme 10 Years Younger.
Mesotherapy is a NO NEEDLE and Non Invasive way of introducing sterile infusion of vitamins, minerals, amino acids, skin hydrators, skin firmer's, de-pigmenting skin lighteners and wrinkle smoothing Botox like peptides WITHOUT the use of a NEEDLE.
The treatment consists of:
Cleansing & preparation
Diamond Tip Microdermabrasion
Thermotherapy
Ultrasound Aesthetic Mesotherapy
Cryotherapy
We can treat face, neck, chest (decolletage) and hands. Also suitable for Cellulite. For men and women and all skin types and colours
The benefits, are comfortable relaxing treatments, no bruising, no downtime, working with your skin's own healing and repair mechanisms.
A consultation by our trained therapists will provide you with details of the course of treatments required.
Single treatment £65.00
Course of 6 treatments £385.00