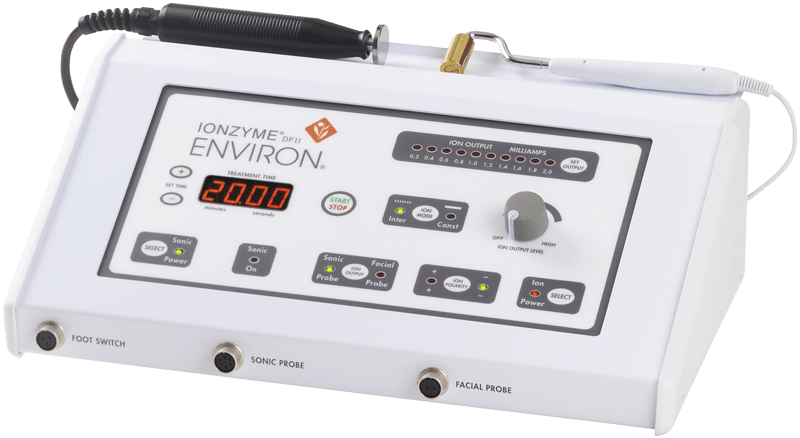 The Environ Ionzyme DF II Mach

in

e
The DF II Machine is the first to combine the use of active Sonophoresis and intensified Iontophoresis, and is possibly the most advanced machine of its kind in the world.
The Ionzyme DF II machine enhances the penetration of these products through the skin, a crucial step because skin has a natural, waterproof barrier that hinders the penetration of vitamins. It overcomes this resistance with two tried and tested methods:
Operated by trained skincare therapists, the Environ products used in these treatments contain vitamins A and C, plus additional growth factors, to make the skin more resilient, radiant and to help treat blemishes such s patchy pigmentation, scarring and pimples.
IONTOPHORESIS - an electrical current facilitates greater penetration of vitamins into the skin. It is used for r larger surface areas such as the face and neck. With conventional iontophoresis, changes are very much slower, whereas the Ionzyme DF II machine, the skin looks and feels younger within two or three treatments.
SONOPHORESIS involves the use of sound waves to transport vitamins molecules through the skin and productes better penetration through the skin than conventional ultrasound. It is used on limited areas such as the upper lip and character lines around the eyes, on scar tissue and on pigmentation marks.
Both methods can be combined for intensive treatments.