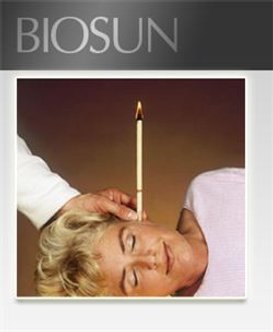 The magic of fire has fascinated people from the very beginning of time, and Ear candles evoke a similar fascination, having been used by many cultures since ancient times. The peoples of the Siberian prairies, Asia and native North and South American Indians mention Ear candles in their myths, with ancient rock paintings showing ear candles being used at initiation rituals and medicinal ceremonies.

"BioSun ear candles have 21 years of ear candling experience"The Hopi, the oldest Pueblo people, who possess great medicinal knowledge and spirituality, brought this knowledge to Europe with the professional involvement of BioSun. BioSun have been researching the use of ear candles since 1985, with many people worldwide benefiting from the healing effects of ear candling.

BioSun ear candles have 21 years of ear candling experience, with only high quality materials used and safety standards which are regularly tested by independent institutes.
BioSun Ear Candles:
Use only the finest premium quality ingredients, sourced from certified organic producers
Are still traditionally made using ancient Hopi Indian techniques
Are using only high quality pesticide-free untreated cotton
Have been tested as free from all environmental toxins
BioSun Ear Candles are made from:
Pure Bee's Wax
Honey Extract
Pure Essential Oils
Premium Organic Linen
BioSun understands the importance of your confidence. This is why only the highest quality ingredients are used. Ingredients which are continually tested to ensure quality.
Also known as Thermo Auricular Therapy, Hopi Ear Candling is a wonderfully relaxing and beneficial treatment. It can help with many conditions and problems associated with the ear, nose and throat area.
Treatment includes a lymphatic drainage massage.
Treatment time: 40 minutes £30.00
Biosun Ear Candles History & Ingredients