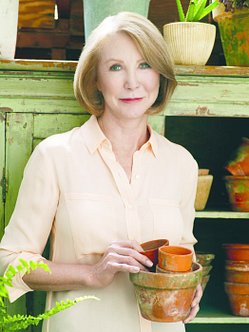 Jane Iredale, CEO and founder of Iredale Mineral Cosmetics, was the first to supply the beauty industry with a full line of make-up based on minerals that would offer not just colour enhancement, but also benefits to the skin. She set up her company Iredale Mineral cosmetics in the US in May 1994. She was also the first to see the potential for a make-up range that was good for the skin and worked with leading plastic surgeons and dermatologists to develop her products.
British-born Jane began her career in film, theatre and television in the US, where she now lives. She started as a casting director working in television commercials with models like Lauren Hutton, Jacqueline Smith and Cybill Shepherd and then in film and television with actresses like Susan Sarandon, Glenn close, and Sarah Jessica Parker. Among many others, she worked with Francis Coppola on The outsiders, Steven Spielberg on the The Colour Purple, all major television networks as well as the BBC.
She then formed her own production company and produced over fifty programmes for PBS and HBO, two of her feature films were named as the best films of their respective years. One was awarded the coveted George Foster Peabody Award. She also won an Emmy for a film series on which she was the writer. When she moved from film to theatre she was nominated or a Tony Award for the Broadway musical Wind in the Willows.
Working with models and actresses who have since because superstars, she came to share their concern for their skin, which was subjected to repeated applications of heavy make-up.
A lifelong devotee of organic foods and all kinds of natural products, when Jane decided she was suffering from show business burn-out, it seemed a logical step to combine this enthusiasm with her understanding of make-up, to make a fresh start in the cosmetics business with her own distinctive brand.
Throughout her career, Jane has worked with the best make-up artists in the entertainment and beauty professions. She has seen at first hand that true creativity comes not from trying to make a face conform to the latest fashion, but from enhancing the individual's natural beauty and, as a result, allowing her personality to shine.
Jane's experience working with people whose careers depend on a clear complexion has enabled her to understand how skin disorders and sensitivities cannot only threaten the careers of the stars, but can also destroy any woman's self-confidence. Her make-up line is designed to ensure everyone can enjoy a healthy skin.
Jane Iredale - The Skin Care Make-up combines up-to-date colours for every complexion or ethnicity in a formulation that offers serious skin-care benefits. The range is based on micronised minerals and made without fillers like talc and without chemical dyes or synthetic preservatives such as parabans and formaldehyde.
In addition, providing the perfect make-up for everyday use, it also gives complete coverage for skin conditions like acne, rosacea and for redness following beauty treatments such as chemical peels and laser resurfacing. The make-up gives flawless, long-lasting coverage with minimal product application and without irritation. As a result, Jane Iredale products are carried by spas, salons and medical clinics throughout the world. From its base in Massachusetts, the company has expanded into more than 40 countries worldwide.
The Jane Iredale line has been the recipient of the highest awards and accolades in the industry. But that isn't enough. Jane has been an environmentalist since she can remember and for the past several years she has been endeavouring to make her line as ecologically sound as possible. She doesn't believe in "green washing" and sincerely wants to heighten the level of consciousness about a planet in trouble.